On Sunday, June 2, 2019, SchoolPower presented its top honor, "The Hall of Fame Award" (aka The Claes Award), to the Hexberg Family Foundation. The award was created in honor of Claes Andersen, owner of The Hotel Laguna and Claes Restaurant. Andersen opened his restaurant to SchoolPower back in 2001 and underwrote an annual dinner for seven consecutive years, in addition to other generous donations. The Andersen family contributions to SchoolPower totaled over $200,000.
With the Andersens as the benchmark, this award is not given lightly. However, it would be hard to find a more deserving recipient than the Hexberg Family Foundation. As their three children participated in the high school's sports programs, Greg and Deborah Hexberg developed a love and commitment to LBHS athletics. Their enthusiasm grew into an ambitious plan to benefit as many student athletes as possible and help take the Breakers to the next level of competition. For the last 9 years, the foundation has generously given over $335,000 to help the LBHS athletics program. Greg Hexberg states, "We found a way to impact every student athlete, whether they are in band, cheerleading, track, whatever it is. Over time it all matters, and it all makes a big difference."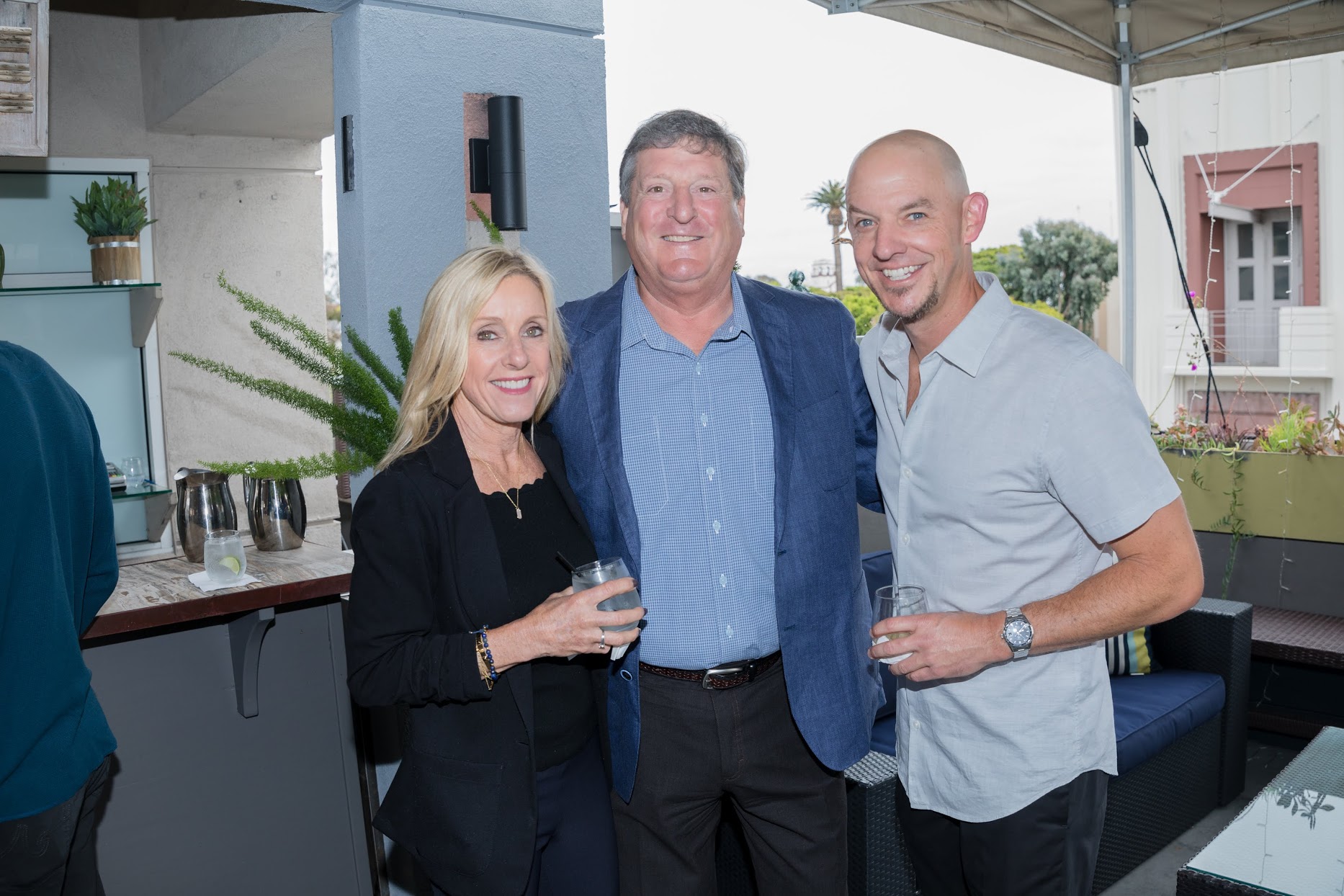 Deborah Hexberg, Greg Hexberg and SchoolPower Vice President of Business Alliance Rob Alshuler at SchoolPower's annual trustee dinner, hosted by Nirvana Grille. (Photo by Kristin Karkoska, Blue Sky's Studio)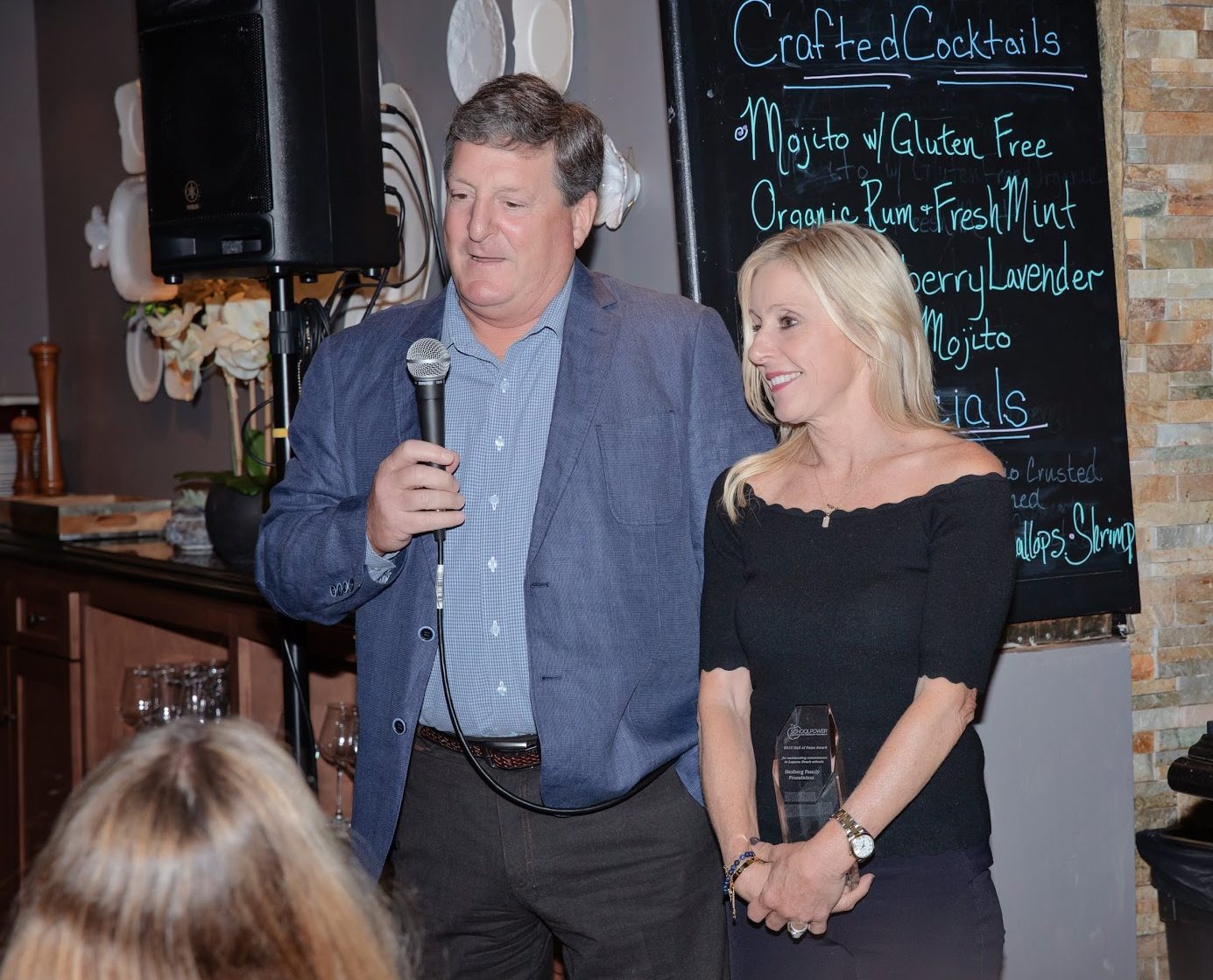 Greg and Deborah Hexberg accept the Hall of Fame award at SchoolPower's annual trustee dinner, hosted by Nirvana Grille. (Photo by Kristin Karkoska, Blue Sky's Studio)
The Hexberg Family Foundation has funded items as far ranging as hurdles for the track team, bleachers for the water polo and swim teams, girls' lockers, and the new state-of-the-art scoreboards on the field and by the pool. "Laguna Beach athletics is extremely grateful to the Hexburg foundation for the support of our student athletes," says LBHS Athletic Director Lance Neal. "The most visible contribution is the state of the art scoreboard at Guyer field that is used for football, boys and girls soccer, boys and girls lacrosse games. Additionally, we annually host an invitational track meet that brings over thirty schools to Laguna. The scoreboard and its capabilities have substantially enhanced the event."
In addition, gifts from the Hexbergs have funded the construction and further expansion of the high school's outdoor weight facility, as well as put in place a professional training staff to work with students. The strength and conditioning program is available to all high school students and utilized by myriad sports programs, including baseball, basketball, water polo, lacrosse, volleyball, soccer, tennis, cheerleading, wrestling, and track.
In combination with a grant from the SchoolPower Endowment Fund, this year's gift from the Hexberg Family Foundation will introduce the use of Sparta Science force plate technology and movement diagnostic software. The Sparta System will enable trainers and coaches to quickly administer movement assessments (Balance Scan, Plank Scan, Jump Scan), identify injury risk due to movement imbalances, and prescribe personalized exercise programs to correct weaknesses. This innovative system strives to increase athletic resilience, reduce injuries and optimize performance.
The Hexberg Family Foundation has helped transform the LBHS athletic program into one that regularly competes successfully against teams from much larger schools. "Our kids have some of the best facilities and sport performance technology available thanks to the Hexburg foundation," says Neal. "We are truly fortunate to have their unwavering support."
After receiving his award, Mr. Hexberg said, "Our goal has been and continues to be to contribute on an annual basis for a long time to come. We love Laguna Beach, we love Laguna Beach High School, and we love SchoolPower."