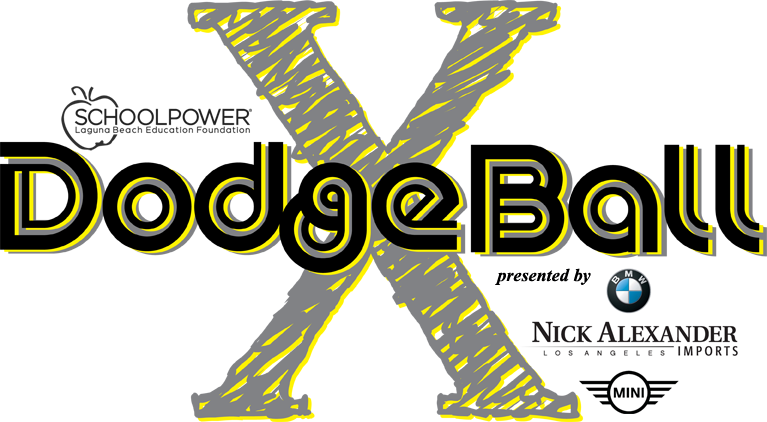 More than 380 costumed players on 50 teams ducked, dived and dodged balls at LBHS on October 16 for SchoolPower's 10th annual Dodgeball Tournament. Each champion team won $500 in prize money to designate to a teacher or school program of their choice. The event raised over $13,000 for SchoolPower!
"The kids bring so much excitement and joy to the tournament," explains Jeff Bhaedhayajibh, first-time coach of We Kick Balls. The popular event included students from all four local schools, teachers, PTA leaders and school staff, Laguna Beach firefighters, and local business supporters.
Competition was fierce in all three divisions. Seventh grader Nico Bammer of the Dodgeball Devils was up for the challenge. "The tournament is exhilarating!" he said. Eighth grader Hannah Kaiser of the Crazy8's acknowledged, "It's fun even if you get beat up."
Repeated throughout the afternoon was an appreciation for how the event brings people together. El Morro student Reagan Levine embraced the teamwork required. "We know what everyone's strengths are," she said of her team the Dodging Devils, "and we've learned to work really well together." Motley Crew coach Jill Nugent highlighted that that the event connects kids who don't normally spend time together, saying, "It's great for the kids to work with kids of the other gender in a fun way to raise money for our fabulous schools."
In the high school/adult bracket, defending champions PrescribeWellness pulled off a three-peat, with one of their two teams taking home the championship trophy once again. Class rivalries played out on the court when the seniors on team 2020 defeated the juniors of Last Kid Picked in a final game for a second place finish. "It was so much fun to play one last time and to beat the juniors, showing them the Class of 2020 is the best!" said senior Grace Houlahan.
Special shout-out to event photographer Kristin Karkoska of Blue Sky's Studio who donated her time and captured some amazing shots of all the teams.

CONGRATS TO THE DODGEBALL X CHAMPIONS
4th – 5th Grade Champions: Ball Dogs coached by Nick Hooper
6th – 8th Grade Champions: VSCO coached by Bill Brown
High School / Adult Champions: PrescribeWellness 2
BRAGGING RIGHTS FOR THE BEST DRESSED TEAMS
4th – 5th Grade Best Costume: The Mighty NarBalls coached by Lauren King
6th – 8th Grade Best Costume: Balls of Cereal coached by Jason Reidel
High School / Adult Best Costume: RhythmRide
THANK YOU!
EVENT CHAIRS & VOLUNTEERS
Huge kudos to dodgeball chair Kristine Flynn, for channeling some incredible energy and making it all happen! Dodgeball would not be possible without the support of LBHS (special thanks to Athletic Director Lance Neal!), and the over 500 players, coaches, referees, scorekeepers and organizers who rally each year. It's truly a community event!
SPONSORS
Dodgeball X would not have been possible without our Sponsors. Huge thank you to Business Alliance partner Nick Alexander Imports for their ongoing support of SchoolPower as our Terminator Sponsor. Thanks to Bala Shala Yoga for Kids for being a Court Sponsor in the Dugger Gym.